Review of the Largest Trans Porn Site
When it comes to producing trans porn, one company stands out above all others. Grooby Productions has been the leader and pioneer in the trans porn niche and still produces some of the best content. You can find over thirty Grooby website reviews at our sister site, Darkangelreviews.com, with everything from solo masturbation to transsex domination. But their flagship site is the Grooby Archives, where they collect content from some of their most popular sites, making it the largest trans porn site with 44,000+ videos and millions of pictures.
On our top TS porn site list you can find several Grooby sites we have reviewed.
The Grooby Archives Content
The 44,000+ premium full-length videos make it the largest trans porn site, and it's the most popular site among our readers at our sister site TS Reviews.  As the name archive suggests, its content has been archived, which is correct.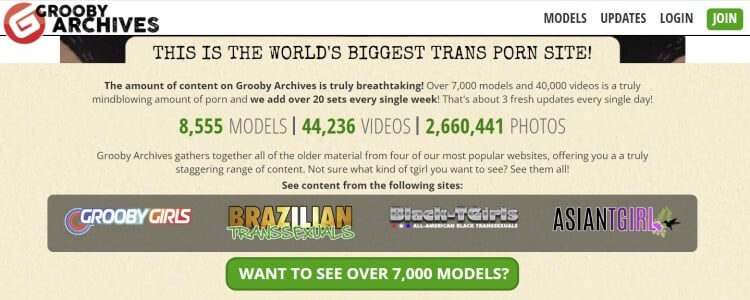 Grooby Production takes content that is two year old from other Grooby sites and archive it at Grooby Archives. So, it is a collection of older content from the following sites:
Grooby Girls Review – Formerly known as Shemale Yum, this is the longest-running transgender porn site, with 6,700+ videos and nearly 3,000+ pornstars.
Brazilian TGirls Review – With the best TS porn from Brazil, this site was formerly known as Shemales from Hell, and that says it all.
Black TGirls Review  – The go-to site for fans of Ebony TS porn, here you find 5,600+ Ebony trans porn videos and 1,500+ pornstars.
Asian TGirls Review – The world's largest Ladyboy site with 6,600+ Asian trans porn videos and 3,100+ pornstars from Asia.
On top of the largest video collection are 8,000+ pornstars and 2,600,000+ pictures. This makes Grooby Archives the largest trans porn site out there.
Price & Membership Options
You would think that a site like this with all this content would cost more than your usual tran porn site membership. But in this case, the price is about the same as you will pay for other porn site subscriptions.
Here are your membership options:
1 month – $35.00
3 months – $70.00
6 months – $130.00
1 year – $200.00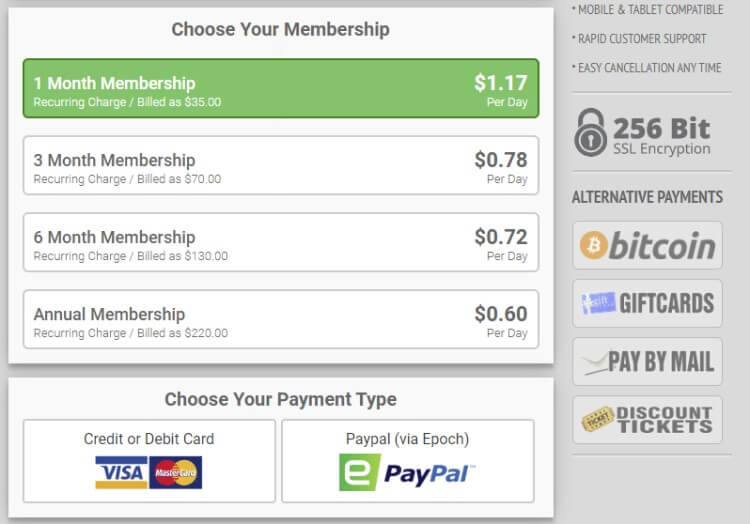 Another great thing about Grooby Archives is that they offer several payment options like credit card, PayPal, Bitcoin, and Gift Cards.
The Largest Trans Porn Site Summary
Who should join Grooby Archives? Being the largest trans porn video collection, it is a site for any serious transgender porn collector. The content comes from several niche websites, giving the Grooby Archives a wide variety of TS porn content covering many niches. What is the downside of joining the site? Being an archive site, the content first gets published here after two years on the original sites, so if you only want the latest content and don't want to wait, you need to join the individual sites from which the content is taken.
So my final verdict is that Grooby Archives is a mega site in the TS porn site niche with more content then you will have time to watch. So, it's a site any serious trans porn viewer needs to check out.
Follow the link below to explore the site and learn more about the content.
Go to Site
Recommended Reading For You