Transex Japan Review updated on January 19, 2021, by Fetish King
Introduction
Transex Japan is the latest Japanese shemale site released by the Tsunami company. It has the finest transsexuals from Japan in the highest-quality possible. It's 100% exclusive and uncensored with only REAL Japanese newhalf. It's hardcore sex and solo stroking in near-perfect production values, with some of the hottest newhalf pornstars like ladyboy Miran, Chulin Nakawaza, Hyori, and Yui Kawai.
Impression
Fetish King is the first to review Transex Japan. It hasn't had much time to grow its video and photo content, so the site is small in quantity. But I decided to peek inside anyway since these t-girls are too hot to ignore. TS Reviews has already reviewed Shemale Japan and Shemale Japan Hardcore. Until recently, these were the only 2 sites offering Japanese shemale porn Full-HD downloads. Both sites are significantly larger than Transex Japan so if you're new to this niche, you might want to start there.
Transex Japan Content
The site hasn't yet really taken off (September 2017). It was launched only two months ago but it's quickly gaining attention. It's updating every week in Full-HD 1980x1080P in MP4 format. In January of 2018, there were approximately  38+ exclusive videos to download or stream. There's no DRM protection on the movies so you can enjoy the downloaded content even after your membership has ended. (Depending on when you're reading this review, this number might already have doubled or tripled, so I recommend you visit the 'latest releases' on the free tour for the up-to-date statistics).
Newhalf Scenes & Galleries
The movies follow a consistent theme filmed in high-end hotel rooms with bright white backgrounds. Chulin Nakazawa is the hottest star of the site appearing in 7+ videos and 11+ photo galleries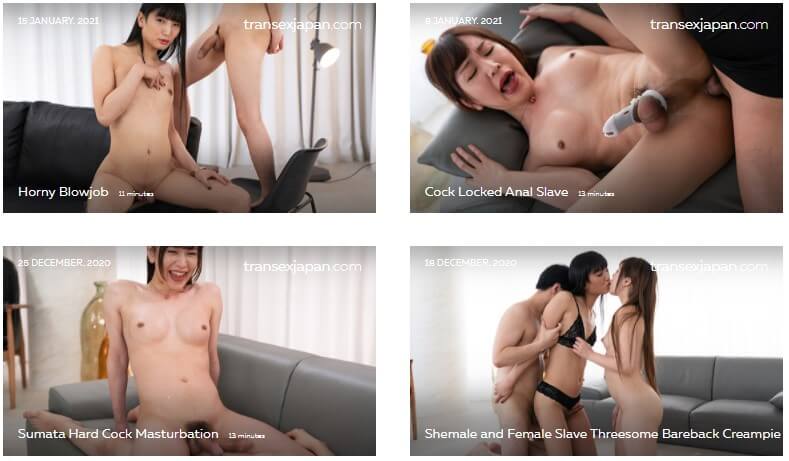 In my opinion, she makes the membership worth it. (You can follow her on her Twitter at @chulin_nakazawa but I prefer watching her fuck in Full-HD).
Another top-rated model on the site is ladyboy Miran with 7+ videos and 9+ galleries. You'll see her in a nice foot worship scene getting her throbbing dick sucked by a white male. (She does hardcore anal with other men and shemales on Shemale Japan Hardcore).
There's also the tattooed Yui Kawai in a threesome scene filmed in 69 position with blowjob and finger-fuck. Yui has 8+ scenes and 11+ galleries. All the scenes are exclusive to Transex Japan including at least one first-time porn shoot.
Free Samples
Before you choose to become a member I recommend you to take a look at the free sample scenes and galleries that Transex Japan offers. On their top menu, you will find the link 'Sample' it will take you to the free pictures and trailers of some of the scenes.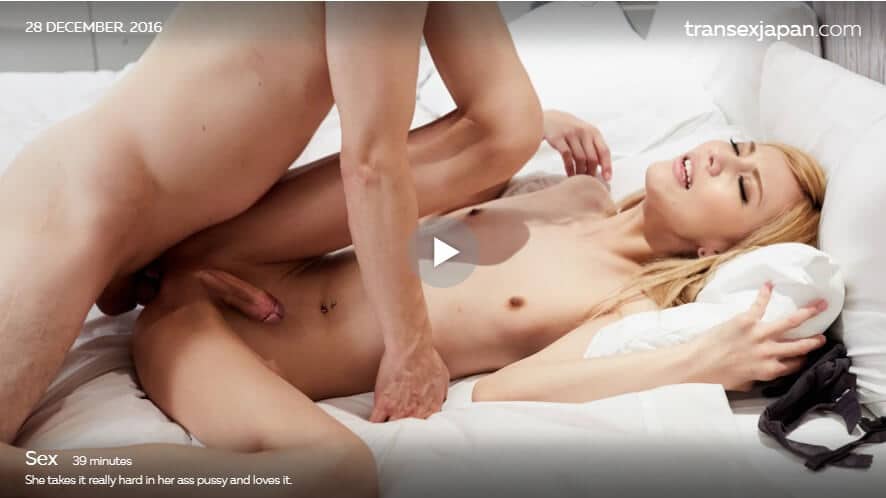 You will find trailers from scenes like Handjob bukkake with Miran,  Blowjob, and cock tease with Chulin, Threesome with Ladyboy Miran, and a few more. These trailers will really give you a climes of the high quality of the videos.
Prices
Listed below are the membership prices:
1 Month Membership for $34.95
2 Month Membership for $54.95
3 Month Membership for $79.95
Payments can only be made by all the major credit cards and members can cancel their subscription at any time and your card will not be billed again.
Conclusion
Are you looking for the sexiest newhalf porn stars from Japan in 100% uncensored exclusive action? Then you'll definitely want to visit this site as it will keep growing during 2018. The selection of both models and videos is so far limited, but the Full-HD 1920×1080 quality is superb. Don't miss out on this Japanese Shemale Porn site and get to see new-half in the best quality videos! If you want to see the quality for yourself then click the 'Sample' link at Transex Japan. Which will showcase the top quality of the videos.
Go to Site